Inventions have helped to improve the way we live, consume, build and prosper. Technology has helped to bring about a revolution in all areas of our lives. This is also true in the case of building materials. Sometimes, construction is carried out using only soil or clay without any binding material. When we look around today, we see shiny glass offices and buildings made of marble.
PVC foam board manufacturing companies can offer it in all types of building applications, indoors or outdoors, due to its high availability. It has been a good alternative to timber, which tends to be subject to all weather and can corrode within a few years.
Advantages of PVC foam board
1. Water resistance: PVC foam board has a solid water resistance due to its composition. It does not swell or lose its composition when in contact with water. This makes it suitable for all types of weather.
2. Corrosion resistance: When in contact with chemicals, PVC does not react. This keeps its condition intact and protects it from any form of deformation.
3. Fire resistance: PVC foam board is fire resistant and can therefore be used anywhere. Acid, heat or light will not affect it.
4. High strength and durability: Due to the structure of their constituent molecules, PVC foam boards have a high strength that ensures that they will not deform. These panels can survive for up to 40 years without any damage.
5. Easy to shape and paint: PVC can be supplied in any shape you require. It can be cut into the furniture in your home or made into wall panels for external use. Plus, it can be painted with any type of paint that will last for years and look and feel as if it were new!
---
When using PVC foam panels for partitions, they tend to resist sound effects and thus keep privacy intact. This makes it ideal for office use. PVC foam board manufacturers do not need to use wood to produce it, so there is no harm to the production of forests. Over the last 15 years, our product is widely accepted and recognized by every customer and Aibo has built a good reputation and has become name brand in China's board industry. "Aibo board, reliable board" is now the common recognition.We will keep on innovating and developing new products to meet the new market demand and bring our customers with new product experience and extra value.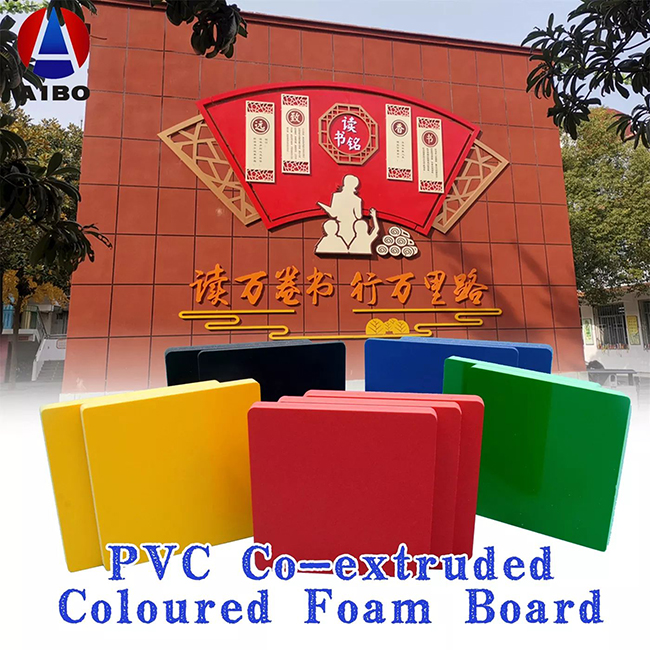 Due to their properties and multiple applications, they are superior to other building materials that have the same functionality. Every day, its applications are increasing and thanks to their flexible prices, they are becoming the right choice for a wide range of industrial projects in addition to residential ones.
---
PVC foam board uses
1. for ceilings in cars, buses or trains
2. widely used in the manufacture of home and office furniture
3. for the construction of external wall panels
4. PVC foam panels can be used to design home interiors
5. for signage and outdoor advertising kiosks
6. for buildings, garage doors, POP displays, exhibition spaces and signage
PVC Co-extruded colored foam sheet
PVC Co-extruded colored foam sheet is a kind of PVC Foam Board, which is manufactured by Co-extruded foaming machine. It's main ingredients inlcude PVC resin and special additives like foaming agent, anti-aging agent, colorant.etc.
Our company mainly produces: red pvc board, blue pvc board, white pvc board, green pvc board, black pvc board and other color pvc boards and foam boards.
The sheet has flat glossy surface and excellent face hardness. Because its coating-free and water-proof character, it is widely applicable to indoor and outdoor decoration. Welcome to contact us.
You May Also Like:
https://www.aibofoamboard.com/aibo-community/what-are-the-types-of-pvc-foam-board.html