What is Expanded PVC (Polyvinyl Chloride)?
PVC foam sheets have many names such as expanded PVC, polyvinyl chloride foam boards, and Komatex board. Contrary to its name, it is not made from average foam, this plastic-based material is formed from foam polyvinyl chloride. This plastic panel was first created by Eugen Baumann, a German chemist, in 1872. It has been known to be FDA compliant making it useful for housing and commercial applications. PVC tends to be cost-effective and easy to work with.
Scientific and Physical Properties of Expanded PVC
Expanded PVC is lightweight and rigid plastic. PVC foam boards have a range of densities from 3 lbs/ft3 to 25 lbs/ft3. Due to its thermoplastic properties, PVC begins to soften at 149°F. In addition, it is highly resistant to moisture and certain chemicals, which makes it both easy to manipulate but also expands its practical applications.
Different Types of Polyvinyl Chloride (PVC)
There are two different types of PVC such as rigid PVC and flexible PVC. Rigid PVC is mainly used for sturdier applications such as bottles, curtain rails, window frames pipes and more, whereas flexible PVC is mainly used for items such as flooring, roofing, shower curtains, cable and wire insulations, toys and more.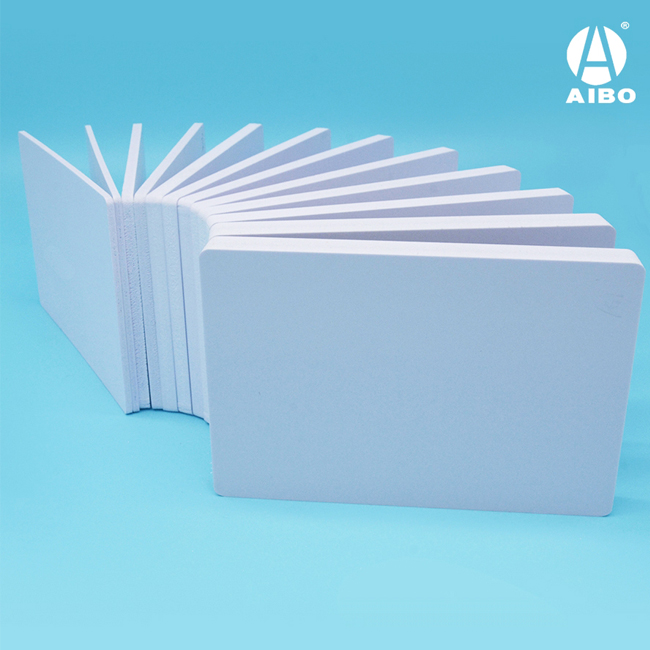 How is PVC Foam Board Made?
Expanded PVC is manufactured through polymerizing vinyl chloride in its monomer form. This is done through a suspension process. Originally PVC foam sheets were manufactured through containing vinyl chloride in a tube and exposing it to sunlight. This produced the solid white plastic now known as expanded PVC.
Is Expanded PVC Foam Toxic?
Expanded PVC foam sheets are not toxic. Because expanded PVC is made with non-toxic and eco-friendly thermoplastic materials it is free of lead, barium, zinc, and cadmium, and can be recycled.
RELATED PRODUCTS
Expanded PVC Foam Sheet
Cut-to-Size White Expanded PVC Sheet
Cut-to-Size Black Expanded PVC Sheet
Cut-to-Size Color Expanded PVC Sheet
What Type of Resistance Does PVC Foam Board Have?
Expanded PVC has excellent resistance to many elements such as water, fire, mold, and mildew.
● Water & Flame Resistant
Expanded PVC is known for its fire resistance as it is self-extinguishing. This is due to its intrinsic flame-retardant nature, PVC cannot catch a flame because it is not flammable. PVC foam board has a UL-94 flame rating, which is perfect for trade show and exhibit hall use. Thanks to its closed cell structure and extremely low absorption values, expanded PVC is also an ideal plastic for outdoor applications that require weather resistance.
● Mold and Mildew Resistant
Expanded PVC is resistant to mold and mildew. Because it has non-moisture absorbent and anti-shock qualities, it is the perfect material for use in trim or other wood replacement projects inside of living and professional spaces.
● Weather Resistant
Expanded PVC is resistant to many types of weather, such as wind, rain and prolonged sunlight. This makes PVC foam perfect for use in outdoor commercial applications.
What Do You Use to Shape Expanded PVC?
Expanded PVC can be cut, machined, nailed, glued, and screwed just like wood, metal, and aluminum. It can also be digitally and screen printed, painted, saw cut, routed, die-cut and mounted utilizing cold mounting techniques. It has excellent fastening characteristics such as superior screw and staple retention. Expanded PVC's lightweight yet rigid composition offers superior dent and scratch resistance, making it ideal for a variety of applications.