Message From Our CEO
Started from Chengdu Sichuan in 2003,Aibo aims to be "the leader of China's board industry" since its business beginning. We are specialized in R&D and manufacture of board products such as PVC foam sheet, polystyrene foam sheet and PVC colored foam sheet which are more lightweight ,environment-friendly,economical,healthy and convenient. "Let the ordinary boards create an extraordinary world" is the direction and power of every Aibo members. Over the last 15 years, we have been making our endeavor to practise our core value- Security, Integrity, Quality, Innovation and Win-win Cooperation. We put the principle of "safety first, quality priority, cost cutting ,and sustainable improvement" in our daily management system and production activities.We are devoted to providing our consumers with absolutely reliable board products.
Over the last 15 years, our product is widely accepted and recognized by every customer and Aibo has built a good reputation and has become name brand in China's board industry. "Aibo board, reliable board" is now the common recognition.We will keep on innovating and developing new products to meet the new market demand and bring our customers with new product experience and extra value.
Thanks to the strong support from our reliable suppliers, we have established a more sufficient and valuable supply chain which help us to expand our business and create more business value.Customer satisfaction and market demand will drive us to develop more high quality products . We look forward to working together with our suppliers to meet every opportunity and challenge, and open a more brilliant achievement.
Thanks to the collective passion and dedication of our employees, Our business have grown rapidly in just over 15 years. We will work continually to embrace many more milestones based on our strategy" Continuous improvement and innovation,respecting knowledge and talents, equal opportunity and team working"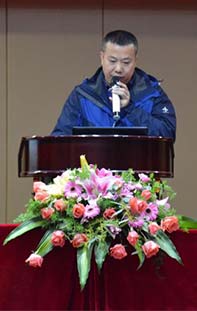 Zenghong Li is the Original shareholder of Aibo Board Industry Corporation and general manager of its affiliated company, FOSHAN KAIBO NEW MATERIAL TECHNOLOGY CO., LTD.
Mr. Li is responsible for overseeing the company's domestic manufacturing operations, with the leaders of the company's businesses reporting to him.