When it comes to rigid substrates it is easy to get confused by some of the names and terms used in the sign industry. Two of the more common rigid substrates used in signage are foam board and PVC board.
Interior Solutions: Foam Board
You may already be familiar with foam boards - they have been used in a wide variety of applications, including indoor signage, displays in buying locations, posters, presentations, and a variety of environments.
Aibo's foam boards are co-extruded, have incompatible physical properties, are lightweight but strong, easy to handle, easy to install, ideal for direct printing or lamination, easy to cut or form and meet a wide range of advertising applications.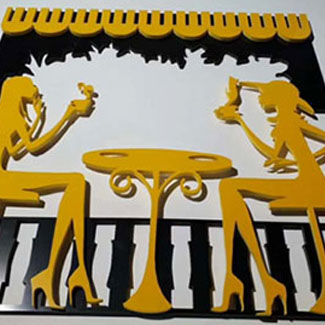 The Foam board usually consists of an extruded polystyrene foam core with a paper face on both sides and is very light in weight - the core itself is about 95% air - but relatively strong. For example, it can be supported unsupported on an easel like a poster board. In fact, you could consider it a sturdy alternative to a standard poster board. Its foam core, by the way, is why the substrate is often called "foam core".
This economical substrate is perfect for direct digital printing, whether using UV inks, eco-solvent inks, solvent inks, water-based inks, or other inks. And it is easy to cut with a knife or digital cutting system.
PVC foam board uses
1. Digital or Screen Printing/Portable displays/Display cladding
2. Signage for advertising or point of sale/Exhibition displays
3. Theatrical props/Model making/Crafts/DIY projects/Interior decoration
A few other things to remember about PVC foam
As PVC foam boards are lightweight, they are easy to display. If you do not want to support it on a freestanding easel, you can add a new one during production.
Another advantage of the lightweight foam board is that it is cheap to transport - it can come in handy if transporting signs to events, conferences, trade shows, etc. And it is economical to do so - so it can be used for a variety of purposes.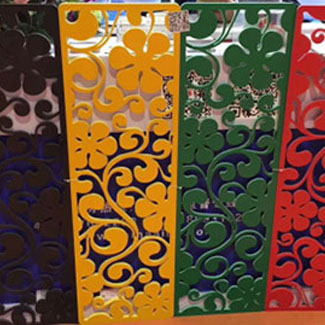 If you want a stronger alternative foam board - and one that works well in both outdoor and indoor environments - you simply need to expand the appearance of the PVC board. Sometimes referred to simply as PVC.
To produce the final material, polyvinyl chloride (PVC, a synthetic plastic) is started in a liquid state. Air is injected into the liquid mixture to make it light and fluffy. This fluffy mixture is squeezed between rollers to achieve the desired thickness - and turns the air mass into a solid substance. The result is both thick and stiff, but also relatively light. A finish (usually matt) is added at the final stage of the manufacturing process; thicker versions (6 mm and above) are completely opaque.
As mentioned above, PVC is durable - very resistant to dents, scratches, pokes, and punctures. It also holds up well to the elements: neither rain nor snow will discolor PVC, and it is also resistant to UV light. In addition, PVC is resistant to chemicals and easy to clean. For outdoor applications, the thicker the better - substrates can usually be found in various thicknesses, with 3mm and 6mm being the two most common sizes.
Like foam boards, PVC boards can be printed directly onto digital printing technology using UV inks, eco-solvent inks, solvent-based inks, water-based inks, etc. And it is very easy to work with: PVC panels can be cut into custom shapes using saw blades, saws, router planers, or digital cutting systems.