Wood Plastic Composite is a combination of wood flour powder, rice hulls & thermoplastics, which mostly include new plastic from materials such as polyethene,

polyvinyl chloride, polypropylene, etc. Additives such as colourants, coupling agents, UV stabilizers, blowing agents, foaming agents, and lubricants help tailor the
end product to the target area of application. The common technology used in production is to extrude the material through injection moulding and extruded materials
are formed into solid panels.
Due to its lightweight nature, they are commonly used on terraces and balconies. Flower pots and landscaped materials are now widely available made in WPCs as
they can be given any desired look and feel due to its availability to be molded and imprinted on it.
WPCs being anti-corrosion, antibacterial and anti-aging are also used as a flooring material for interiors replacing hardwood or engineered wood floorings as splintering
and warping don't take place in it. WPCs is now widely being used as partitions in bathrooms and kitchens and as wall cladding materials inside bathrooms and as false ceiling materials too.
WPC comes with the benefits of water resistance , no decay, not borer attack, higher flexibility a variety of colour and smooth finish.
WPCs are an alternative and eco-friendly material to be used instead of Timber or Plywood and its biggest strength lies in its ability to resist rotting and decaying
and is considered to reduce environmental impact. WPC is now used in the manufacture of exterior garden furniture and fences and exterior playing equipment for kids
WPCs boards are used instead of plywood and marine boards in kitchens to make modular units as their shutters and base materials as they are moisture and heat resistant

than traditional materials. They are more resistant to water compared to wood and can be used molded into different shapes and sizes to form boards of desired thickness.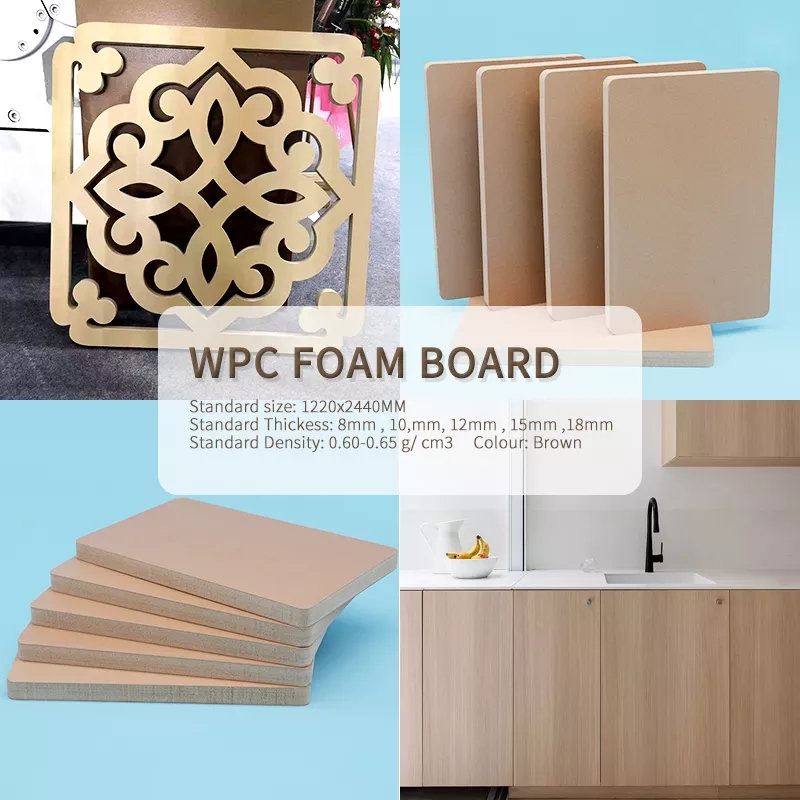 WPC foam board from Aibo company is in brown colour . The specialty of its product is its LEAD Free production. Because of its high quality,
it is wilde used in modular Kitchen,indoor or outdoor cabinet.partitions,screenbackdrop,false ceiling, etc.
Product details:
Thickeness : 8mm , 10mm,12mm, 15mm, 18mm
Size: 1220x2440mm Colour: Brown

Density: 0.60 -0.65 g/ cm3
Application: indoor and outdoor usage
Contact details:
Mr. Paul Leung Mobile / Wechat/Whatsapp No. : +86+13702859820