There are thousands of materials in the world, not all of which are suitable for bathroom cabinets and bathroom cabinets. The professional bathroom furniture manufacturer has summarized the 5 most popular bathroom cabinet and bathroom cabinet materials. These are solid wood, plywood, MDF, MFC, and PVC.
5 types of bathroom cabinets
First of all, let's talk about solid wood.
Solid wood cabinets is the term most commonly used to differentiate between conventional wood and engineered wood, but it also refers to hollow wood construction. Engineered wood cabinets are made by joining strips of glued wood, fiberboard, or veneer to create a composite material.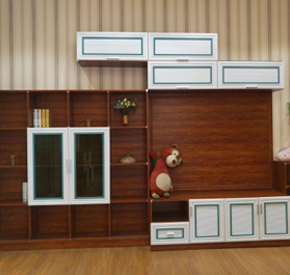 Bathroom Cabinets
Advantages of solid wood
1) Solid wood cabinets are made from natural wood and are completely free of harmful materials.
2) The beautiful sharpness of the wood gives the cabinet a unique and high-quality look.
3) Solid wood cabinets are inherently heavy, so you don't have to worry about them swaying no matter where you place them.
4) Natural wood cabinets are the most durable cabinets that won't easily get damaged or warped.
The disadvantages of solid wood
Solid wood cabinets are so good, why doesn't everyone buy such bathroom cabinets. The main reason is the price is too high, so the price of a whole set of bathroom cabinets is very high. Not everyone wants to buy them. That is why solid wood bathroom cabinets are mainly sold on the North American market.
Overview
Solid wood itself is poorly waterproof and cannot absorb more than 5% of water in the case of wood treated with a waterproof finish. However, it must be protected from moisture. Solid wood drawers have a natural and elegant look and are the most expensive.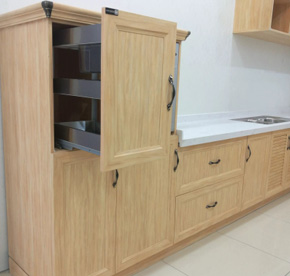 Bathroom Cabinets
Second, plywood
Plywood is a thin layer or "ply" of materials made of wood veneer, these veneers, and adjacent layers are glued together, the wood structure is rotated up to 90 degrees from each other. It is an engineered wood that belongs to a family of industrial boards, including MDF and particleboard. (Wikipedia).
Solid wood is quite expensive, which is why plywood was invented to replace it.
Advantages of plywood
1) Plywood has excellent stability, no matter how much it is moved and shaken, it will not warp.
2) Plywood cabinets are easy to maintain and won't crack no matter how hot or cold it gets.
3) Plywood is lighter than solid wood and is easy to move when renovating or repairing.
4) The price is cheaper than solid wood, more people will choose it.
Cons: Plywood is suitable for indoor applications where it is used as wood paneling.
Plywood is not as strong as solid wood, we usually use solid wood for the legs and plywood for the cabinet body.
The cut edge is not as smooth and it requires a lot of work to stain it.
Overview
Plywood is a cost-effective material for bathroom cabinets. Long-term experience has shown that solid wood table legs and plywood cabinet bodies go perfectly together.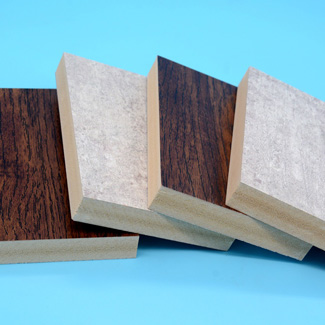 PVC Laminated Foam Board
MDF AND MFC
MDF is an engineered wood product made by decomposing hardwood or softwood residues into wood fibers, usually by defibration, combining them with wax and resin binders, and molding the boards using heat and pressure.
MFC stands for 'melamine-faced particleboard' and most office furniture is made from this material. The quality of particleboard depends mainly on its density.
Advantages of MDF AND MFC
(1) MDF is easy to cut, the edge is smooth and it is easy to paint.
(2) Raw materials are readily available and there is no need to fall trees. In other words, it helps protect the land and the environment.
(3) The MDF surface is so glossy that any color can be used. You can choose from a variety of colors.
(4) MDF bathroom cabinet is cheap and everyone likes it.
Disadvantages
Poor moisture resistance, it swells and deforms easily when it comes in contact with water.
Review on
Bathroom cabinets made of MDF have rich colors, rich wood grain and are not expensive, but they deform easily after a long time.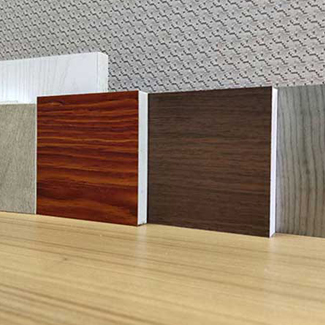 PVC Laminated Foam Board
PVC board
PPC board bathroom cabinets contain the chemical composition of polyvinyl chloride, used in the furniture, construction, and advertising industries. This PVC foam board is made of lightweight foamed PVC that is moisture resistant and corrosion-resistant. It is definitely lightweight. It is also resistant to chemicals.
Advantages of PVC board
1) PVC board is very soft when heated and can be made into any shape you want.
2) PVC bathroom cabinets are very light and easy to install and remove.
3) It is 100% waterproof and will not swell or warp no matter how long it takes.
4) PVC bathroom cabinets are not expensive and are hot in the global market.
Overview
PVC bathroom cabinets are rich in shape and easy to take.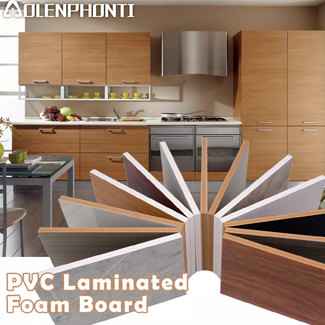 Applications of PVC Laminated Foam Board
Metal (stainless steel and aluminum alloy)
Material is 202, 304 stainless steel. You can take a magnet to test whether it is a good material. Good stainless steel magnetic small, not easy to be attracted by a magnet.
Advantages of Metal
1) Reasonably priced and resistant to water.
2) It will not fade even in the sun. That's why people usually make a laundry cabinet to put on the balcony.
Disadvantages.
Easy to the scratch, noisy sound
Overview
304 material metal base is good water resistance, can be used for about 10-15 years. But the color choice of the plain is small.
In the world, each material has its own advantages and disadvantages. Considering, PVC bathroom cabinet sells well in the world market with its low price and rich shapes and colors.