Due to its excellent versatility, PVC foam is probably one of the most widely used materials in the world. As a result, PVC foam has been developed to meet the needs of a myriad of application functions. But what is PVC foam and how can it be used effectively for commercial and recreational projects?
What is PVC foam?
PVC foam, also known as polyvinyl chloride foam, is a durable closed-cell free foam PVC sheet. This material is easy to use and can be easily sawed, die-cut, drilled, or bound to meet the needs of numerous applications.PVC foam offers many benefits such as superior impact resistance, high strength, excellent durability, low water absorption, high corrosion resistance, and fire resistance, to name a few. These benefits provide the perfect material to withstand all types of indoor and outdoor conditions, including harsh weather. PVC foam is also an excellent alternative to other materials such as wood or aluminum, and can typically last up to 40 years without any damage. The price range of this material will vary compared to these traditional materials.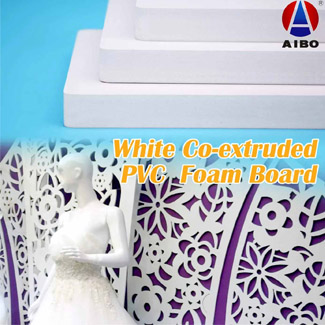 White Co-extruded PVC Foam Board
What is marine-grade PVC foam?
The versatility of PVC foam allows it to be used for more than just land-based applications. These marine-grade PVC foam sheets offer many advantages. For example, they are environmentally friendly, offer superior impact strength, are lightweight, durable, moisture resistant, and are resistant to rot, corrosion, splintering, warping, and delamination. All of these properties are reasons why marine manufacturers prefer to build with marine-grade foam PVC sheets.
Common uses of PVC foam
Signs made from PVC foam offer great value for a variety of signage applications. PVC foam sheets are durable, display consistent colors, and are perfect for directional signage, POS displays, display boards, menu boards, and real estate signs.
The building and construction market has also seen tremendous advances in PVC foam applications. Architectural columns, decorative shutters, store fixtures, shower tubs, furniture, outdoor kitchens, and other anti-microbial solutions are just a few examples; but the versatility of PVC foam allows builders, architects, and designers to get as creative as they want in their designs.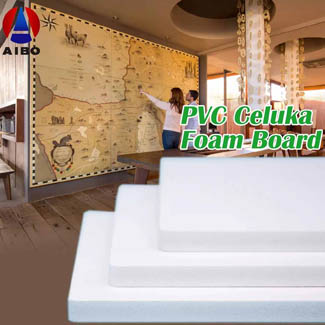 PVC Celuka Foam Sheet
Exhibition spaces also benefit from the use of PVC foam. Because PVC foam is lightweight and easy to use, trade shows, display cases, staging and event displays, and kiosks made from this material become easier to install and use.
For marine market applications, marine-grade PVC foam is specifically designed to withstand harsh environments. Marine decorative substrates, swim platforms, cores for backboards, and cup holders can all be made from this marine PVC foam and offer excellent performance.
Contact Us
Aibo is a foam board supplier, We are specialized in R&D and manufacture of board products such as PVC foam sheets, polystyrene foam sheets,s and PVC colored foam sheets which are more lightweight, environment-friendly, economical, healthy, and convenient. Welcome to contact us!