There are many different types of PVC foam board on the market. Before talking to a wholesaler or manufacturer, make sure you know what the differences are and where you should use them.
PVC free foam boards
The term "free" refers to the free foaming method used in its production. The PVC foam melt expands freely as it leaves the mold head and then enters a calibrator that is separated from the mold head. The free-foam method is the most basic process for producing PVC foam boards. This is why usually PVC free-foam boards are the least costly of all types.
PVC Celuka Foam Board (pvc crust foam board)
The "Celuka" method uses a mandrel in the mold and there is usually little space between the mold and the calibrator. The cooling of the surfaces in contact with the walls of the calibrator produces a very strong skin on the surface of the board, which is simultaneously filled with a foam layer.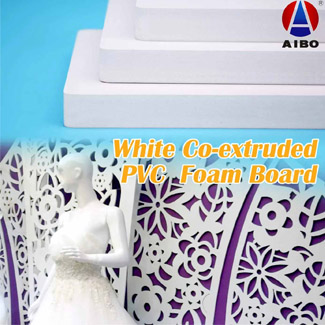 White Co-extruded PVC Foam Board
PVC Co-Extrusion Foam Board
The co-extrusion process is an upgraded version of the normal extrusion process. It allows the sheet to be made from a combination of three layers: two rigid layers of PVC and a middle layer of foam PVC. Thanks to its rigid layers, PVC co-extruded foam sheets have a harder and smoother surface than PVC celuka foam board.
PVC Laminated Foam Board
PVC laminated foam board is a PVC foam board laminated on one or both sides. This product solves the problem of the limited choice of PVC foam board patterns. With its PVC film or aluminum surface, PVC laminated foam sheet can look like natural wood and even has a wood grain texture.
Colored PVC Foam Board
The color of the PVC foam board is added at the raw material stage, making the whole board one color. As a buyer, you can customize any color you want using a specific order quantity.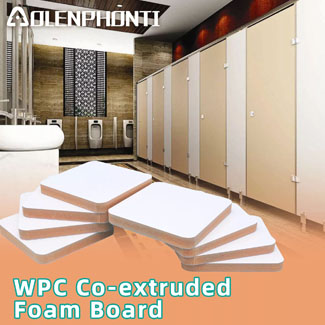 WPC Co-extruded Foam Sheet
WPC Foam Board
WPC foam board is made of wood and plastic and is also known as the wood-plastic composite board. It has a natural look without the problems of wood while retaining all the advantages of PVC foam board.
At Kaibo, we have always believed that our product quality and service will help us succeed. Aibo brand products enjoy the trust, confidence, and patronage of all its customers and advocates, and other stakeholders. Our dedication to quality procedures and willingness to innovate and be the best have deeply imprinted in the hearts and mind space of all our customers and trade partners.
Aibo is a foam board supplier, We are specialized in R&D and manufacture of board products such as PVC foam sheets, polystyrene foam sheets,s and PVC colored foam sheets which are more lightweight, environment-friendly, economical, healthy, and convenient. Welcome to contact us.