SIGN CHINA 2019 · Shanghai, the annual series event of "Oscar" for the global advertising logo industry
As a PVC foam board supplier China, we warmly invites you to visit us and share coversation during the fair of Sign China 2019 in Shanghai, China.
Trade Fair :Sign China 2019
Show Date :18-20 September 2019
Display Products: Full Range of PVC Foam Board/Polystyrene Foam Board
Venue Information: Shanghai New International Expo Centre(SNIEC)
City : Shanghai China
Booth Number : W2-C36
Our website: www.aibofoamboard.com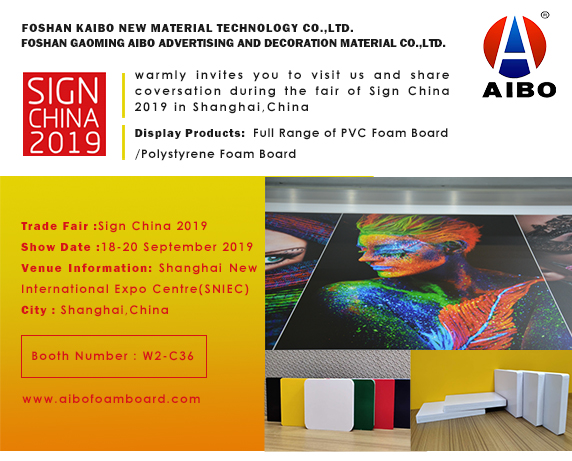 PVC foam board supplier
SIGN CHINA began in 2003, pioneering the traditional advertising including laser engraving/cutting/welding/bending equipment, logo signs, light boxes, advertising board, POP, indoor-outdoor digital jet printing, digital printing supplies, advertising machine equipment and ink, and digital advertising including digital display/touch/software and supporting, LED display, LED advertising light source, LED lighting, LED packaging/partition display chip and equipment and other products and success for the advertising industry to build the first of the most complete one-stop business procurement platform. After 16 years of global promotion and brand accumulation, has developed into the world's most influential, the highest level of advertising industry events, but also the industry recognized the audience is the most international exhibition, the industry as the global advertising logo industry "Oscar" annual event.
Exhibition as an important "barometer" of global advertising sign industry, will continue to perform to enhance the quality throughout the industry as our mission, constantly to exhibitors and the audience of the world's leading traditional advertising sign industry and new digital id field, display advertising industry "five new", namely, new technology, new equipment, new materials, new media, new digital products.
We supply Foam Core Board for sale, WPC board for sale, welcome to purchase our products.