How to distinguish the true skin and false skin of PVC foam board? Following the white PVC foam board supplier would like to share with us.
True knot skin is the use of seluka process, in the plate on both sides of the formation of a layer of dense hard knot skin, can improve the hardness of the plate and nail holding force, for the manufacture of furniture or house decoration, these physical properties are very important.
Want to differentiate PVC Colored Foam Sheet whether to have (true) knot skin, very simple actually! As long as the shop does not pay attention to the use of thumbnail force on the PVC board pressure, and then carefully check whether there is a deep dent, if there is, obviously false, it is best not to.
Celuka, also known as controllable foaming method, is widely used at present. It was invented by French company gine kulmann. It is one of the first extrusion foaming molding methods that applied for patent.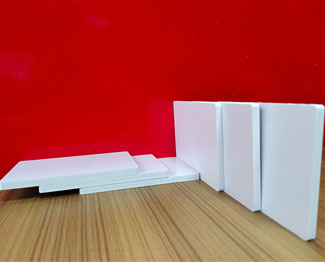 PVC Celuka Foam Sheet
The principle of the theruca method is that the outer surface of the melt is compressed and cooled in a shaping device directly connected to the die orifice, while the core mold in the die cavity ensures that there is room for the extruder to leave the die orifice, and this space is filled with free foam in the mold through the melt. Cooling strength, size of core mold and extrusion speed can affect the density of foam core layer and the thickness of outer coating. The complicated profiles produced by this method have the characteristics of low density, high hardness and smooth surface. They in addition to the production of custom PVC Celuka Foam Sheet, also produce PVC own foam board, PVC foam profile, product quality belongs to the high-grade.
The synthetic property of real leather is stronger than that of false leather. True knot skin is used in the product with higher grade commonly. The surface of false knot skin slants soft, use in surface requirement not tall commonly or the product that undertakes surface treatment even.
Started from Chengdu Sichuan in 2003,Aibo aims to be "the leader of China's board industry" since its business beginning. We are specialized in R&D and manufacture of board products such as PVC foam sheet, polystyrene foam sheet and PVC colored foam sheet which are more lightweight ,environment-friendly,economical,healthy and convenient. "Let the ordinary boards create an extraordinary world" is the direction and power of every Aibo members. Over the last 15 years, we have been making our endeavor to practise our core value- Security, Integrity, Quality, Innovation and Win-win Cooperation. We put the principle of "safety first, quality priority, cost cutting ,and sustainable improvement" in our daily management system and production activities.We are devoted to providing our consumers with absolutely reliable board products.