At present, the vast majority of display boards on the market are backed by the practice of mounting KT boards. the main reason for KT board blistering is that the glue on the backing corrodes the mask of the KT board. In order to avoid this type of situation, in the summer, the advertising producer partners can use the Aibo digital photo board.
KT board is a new type of material made from PS (polystyrene) granules that are foamed to produce a board core and laminated (hot board) or glued (cold board) to the surface.
Directly for the weak solvent printing digital photo board, that is, spraying that dry, without framing. This will not need to worry about the adhesive backing glue corrosion of the KT board mask, there will not be the wrong choice of picture framing and framing operation errors that lead to a variety of blistering problems.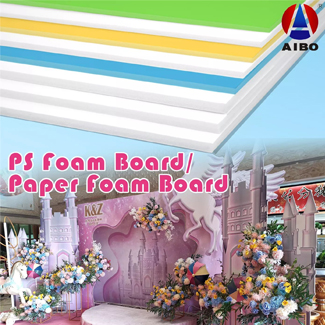 KT Boards
In addition, save the framing process, save the cost of framing equipment and labor, improve efficiency, and save more time, heart, and money.
As a KT board supplier, AIBO board industry after 372 days of research and development of digital photo board, after 286 times on the machine printing test, 5 times technical upgrading, product performance continues to upgrade. At present, the use of 5.0 mask - color lock function to improve 35%, the picture does not halo, no fading; color saturation, clarity of 99.7%, the picture is natural and realistic.
Digital photo board using a single board core, 35% higher hardness than ordinary KT board, will not appear shaded, delamination and other phenomena.
KT board has a light quality, easy processing characteristics, can be directly on the board screen printing, laminated backing screen, and other operations, is a common material used in the advertising industry, it is high-quality and inexpensive, suitable for mass production, can be used to produce all kinds of advertising display boards.
In addition, the KT board has various uses in other fields.
Construction Industry Materials
KT board is a very good material for the construction industry. As KT board is made of PS material foam, the material is foam, low density, good moisture resistance, as the lining of building materials, it can play a good role of sound insulation and heat insulation.
Model material
KT board can be used as a model material. KT board has a large yield, easy to cut and easy to process, and is suitable as various model materials. At the same time, KT board can be applied to screen printing, laminated backing screen, and spray painting, which can produce beautiful and generous models.
Packaging Box
KT board can be used as packaging boxes for the printing industry. The choice of materials for packaging boxes is relatively diverse, and the cost of choosing different materials varies. The choice of KT board as the material for packaging boxes is inexpensive but relatively brittle.
Handmade materials
KT board is an excellent handmade environmental creation, is a good helper to do environmental creation, light texture, easy to cut, hollow, decorative. KT board is full of treasures, it is worth using every inch of the corners of the use of re-use.