What is WPC foam board?
WPC foam board is a highly durable and safe material used for construction purposes. It is a mixture of wood fibers/wood flour and thermoplastics.WPC panels are also made of inorganic fillers and plastic composites. Wood and plastic composites can also be used as a strong, high-quality coating option. Next, the WPC foam board manufacturer will introduce the uses and advantages of WPC foam board.
WPC doors are used for flooring, decking, railings, fencing, landscaping, windows, doors, exterior or interior trim layers, manufacturing window, and door frames, preparing strong and well-designed structures, mixing floor furniture, etc.
In the modern era, the construction industry is also emerging with new materials due to daily technological and research advances, and this is no exception. One of these materials in the construction industry is Wood Plastic Composite (WPC). It is an ecological material that is replacing natural wood and plywood.
It is a composite material that constitutes a waste of wood fibers and thermoplastics. They are mixed to form a base material with a thick consistency. It is then extruded and molded into the different shapes and sizes required. In percentage terms, the WPC board contains 70% virgin polymer, 15% wood flour (fibers), and the remaining 15% additives.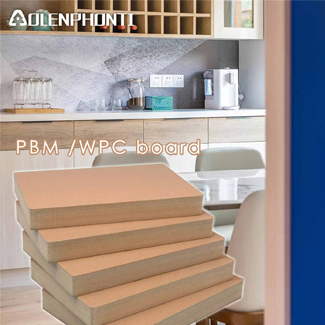 WPC Foam Boards
Advantages of WPC foam board
The following lists the various functions of WPC panels.
The look and feel are similar to natural wood. It requires less repair and maintenance as it does not warp/fold or split into small pieces like natural
It is a highly durable material as it is extremely moisture resistant
It is also resistant to termites and fungi.
It does not corrode easily and does not deteriorate or lose its composition.
It is a sustainable green material because it is made up of recycled plastic and wood waste.
There is a larger nail, set screws with WPC when compared to natural wood, and fasteners.
It is becoming increasingly popular as it avoids unnecessary logging and makes use of waste materials in a very beneficial way to make improved building materials. One tree is saved for every ten WPC cards.
Applications of WPC
WPC board has a wide range of uses and applications for outdoor deck flooring, fencing, door and window frames, and outdoor landscaping.
1. Outdoor decks.
It is used frequently on decks and outdoor patios. WPC manufacturers offer a variety of decking options such as solid decking, hollow decking, mosaic decking.
2. Fencing.
How safe and durable is the material? It is widely used in the preparation of garden fences and other uses for outdoor fencing.
3. Control panels.
This material is very durable and can be used in both interior and exterior panels since it is available in larger sizes.
4. Interior areas.
WPC boards are also used in interior areas for the manufacture of various furniture such as closets, kitchen cabinets, interior partitions, bathroom cabinets, and ceilings in rooms.
Wpc Celuka Foam Board (pbm Foam Board)
PBM(Plasticizable Biomass Material) board is manufactured by using high-quality approved recyclable material and revolutionary technology under the supervision of our professionals. Its raw material composition mainly includes straw powder and resin powder. Finished products contain zero percentage of glue elements, without formaldehyde and benzene. They are 100% recyclable, waterproof, low-maintenance. The offered boards can be provided in different specifications to fulfill the special requirements of the clients. If you want to get more information about WPC boards for sale, please contact us.