WPC is a wood-plastic floor. It is a new type of environmentally-friendly wood-plastic composite material. The wood phenol produced in the process of producing medium and high-density fiberboard is added to the recycled plastic and then made into a wood-plastic composite material by granulation equipment. The production team is made of wood-plastic floor. Wood-plastic composite board is mainly made of wood (wood cellulose, plant cellulose) as the base material and thermoplastic polymer material (plastic) and processing aid, etc., which is uniformly mixed and then extruded by molding equipment. The high-tech green materials, combined with the properties and characteristics of wood and plastic, the real floor black technology, a new environmentally friendly high-tech material that can replace wood and plastic, its English is called Wood Plastic Composites abbreviated as WPC. It is a true zero formaldehyde environmentally friendly, waterproof, silent super elastic floor!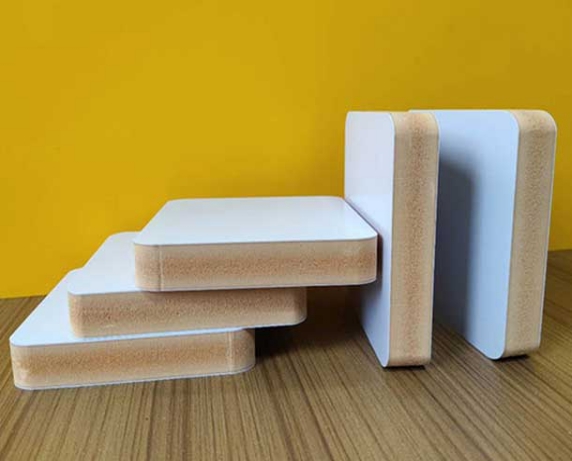 The WPC board is composed of a backing layer, a core layer, a glass fiber, a decorative paper, and a wear layer from bottom to top.
Features:
Green environmental protection
The main raw material for the production of WPC board is polyvinyl chloride. Polyvinyl chloride is an environmentally friendly and non-toxic renewable resource that has been used in people's daily lives. Compared with solid wood and solid wood composite flooring and laminate flooring, its formaldehyde content is called "zero formaldehyde floor". WPC foam board does not produce other toxic substances or gases in normal or other special circumstances. It is a truly green floor.
Ultra-light and ultra-thin
The WPC board is only 1.6mm-9mm thick, and the weight per square meter is only 2-7KG. It has unparalleled advantages for building weight and space-saving in the building and has special advantages in the renovation of new houses and old buildings.
Super wear-resistant
WPC board surface has a special high-tech processing transparent wear-resistant layer. The super-abrasive layer specially treated on the surface fully guarantees the excellent wear resistance of the floor material. The wear layer of the surface is normal according to the thickness. It can be used for 10-15 years.
High elasticity and superior impact resistance
WPC board is soft, so it has a good elasticity recovery under the impact of heavy objects. The coil floor is soft and elastic, and its feet are comfortable and it is called "soft gold of ground materials". Meanwhile, WPC floor has strong impact on resistance, and it has a strong elasticity recovery for the impact damage of heavy objects, so it will not cause damage.