If you are looking for advertising print that will last for years, there are only a few options to choose from. You can choose foam core printing using foam board printing materials and techniques, or you can rely on PVC board printing. This article will discuss basic information about PVC logo printing and Sintra PVC board printing as well as foam core printing and its advantages and disadvantages.
Foam Core Printing
Foam core printing is ideal for projects, advertising materials, and signage that do not require a frame. It is more economical than most print jobs due to the lack of framing hardware, but of course, you can also choose framed foam core printing. Prints are printed on foam board, where the image stays vibrant for a long time. Foam board printing provides a moisture barrier when the image is laminated, so the material will not bend or warp even if it is displayed or even hung outdoors for an extended period of time. This method is popular because the image can be represented by any size of foam and can even display a picture that is divided into four by one.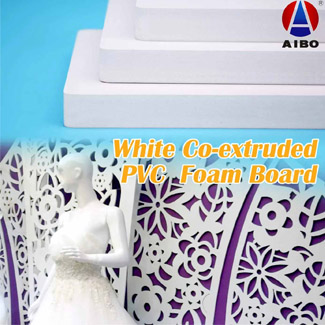 White Co-extruded PVC Foam Board
PVC Board Printing
PVC sheet printing or sometimes called Sintra PVC sheet printing is a new method of printing marketing or advertising materials for businesses, industries, signage, etc. It is especially suitable for outdoor applications as they are very durable and unaffected by any weather. Sintra PVC board printing offers full-color options for various requirements so it can also be used indoors and outdoors. It can be used as store signs, menu boards, yard signs, trade show signs, and more.
This type of PVC is super flexible, lightweight, and durable. Made from moderately expanded closed-cell polyvinyl chloride, or PVC, extruded into uniform sheets, PVC printed panels have a low-gloss matte finish, so prints stay dust-free, clean, and easy to maintain. Unlike foam sheets, PVC sheets are available in a variety of thicknesses and can be printed on any side. Due to the textured surface, this type of board produces little to no glare. Therefore, the signs remain clear. PVC sheets are also versatile and can be cut into different sizes and shapes.
Why choose PVC sheet?
PVC sheet
Comparing foam core board and PVC board prints, PVC wins. The secrets are as follows.
PVC panels last longer and work best outdoors and in any weather. You can be assured that PVC yard signs will last longer and therefore convey the message better than any other type of sign.

Compared to foam board prints, PVC panels are versatile. You can use it for outdoor signs, patio signs, restaurant menu boards, directional signs, and more.

PVC board is lighter and can withstand a few drops. That's why companies that use human signs prefer it. Sintra PVC board will last all day because it's lighter and won't wear out even with continuous use.
It may be cheaper to order PVC sheet printing through experienced and professional trade printers, so take your time to buy the best service and the best price. There is a PVC sheet printing service that is sure to fit your budget and will meet the printing needs needed for your project or advertising campaign. Make your ads clear, easy to read, and straightforward with reliable and effective PVC plate printing. If you want to get more information about the best PVC board wholesale, welcome to contact us today or request a quote.