Selection of auxiliary materials shared by Colorful PVC Board Manufacturer China for installation of PVC sheet flooring:
1. For the absorbent base, the water-based interfacial agent with non-viscosity and high tg value must be selected, and the viscous interfacial agent cannot be used. The interfacial agent selection of non-absorbent base is complicated and needs to be discussed one case by one case. Interfacial agent must be rolled and brushed. Brush the interfacial agent one vertical and one horizontal.
2. Self-leveling must meet the bond drawing strength of 1.0Mpa, many self-leveling is only the surface strength is high, and the bond drawing strength with the base is very poor, need to pay attention to.
3. Self-leveling compressive and flexural strength, according to the use of the environment. General office environment, C20, F6 level of self-leveling of the PVC Colored Foam Sheet China is enough. Generally homemade self-leveling, the compressive strength is no problem, the flexural strength is low.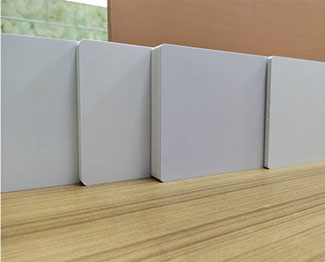 Indoor Decoration PVC Foam Sheet
4. Please pay attention to the first leveling thickness of self-leveling! Most common self-leveling, a leveling thickness of more than 3mm, there will be cracking problems. Please consult technical advice for ground repair and leveling.
5. According to the European Union EN434 standard, the shrinkage of PVC sheet shall not exceed 0.25%, which is free shrinkage in non-stick state. There is a shear strength standard for adhesives, high quality adhesives to minimize floor shrinkage. Especially large size sheet and wood grain sheet, the shear strength of the adhesive requirements are higher.The pressure-sensitive adhesive-bonded Indoor Decoration PVC Colored Foam Sheet can be easily uncovered, without peeling strength, and the floor is easy to curl.
6. Adhesive must comply with DIN EN 14259 on the stripping strength and shear strength, shear strength is particularly important!
7. Pay attention to adhesive tolerance furniture roller rolling index, especially office environment, furniture roller rolling index is extremely important.
8. There is a kind of "pressure sensitive glue" on the market at present, call again "resinous glue" or "sheet material glue" product, essence is not adhesive, just "0 when fix agent", cannot be used at the installation of sheet material floor completely.